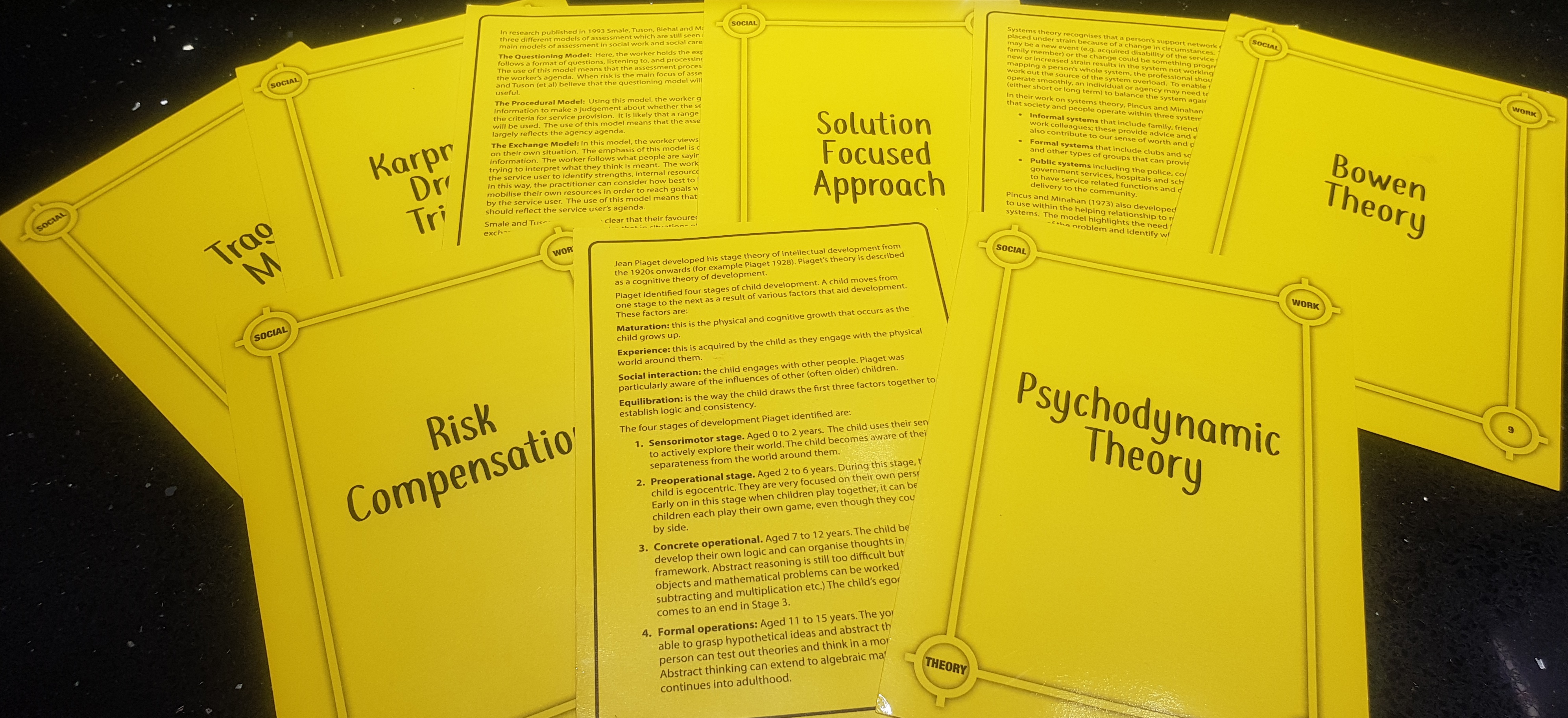 Social Work Theory Cards
KMA0999
£27.50 Plus post and packaging
Social Work Theory Cards - Prompt Cards for Social Workers.
Please note we will be working away from home from Friday 1st November until Monday 18th November so books and cards will not be posted out during this time. We will of course post everything the day we return to office. Kind Regards Siobhan
This set of cards briefly outlines a wide range of theories and models in social work. This second edition set contains 101 cards. 100 theories, models and approaches are covered, whilst the final card explains the difference between a theory, model, method and approach.
Social Work Theory Cards provide an exciting opportunity to use more creative techniques when exploring theory and practice with both students and qualified staff. Every practice educator and indeed every social work team, should have a set. The pack contains an explanatory booklet with lots of ideas about how to use the cards, but the possibilities are limitless. The cards are presented in a handy box set along with some blank cards which can be completed to add further to the set.
Originally designed for use by practice educators in supervision, many social work students are buying the cards as prompt cards to help them widen their repertoire of social work theory.
The prompt card set provides a good investment for a social work career, since the pack can be updated as necessary. If you have a first edition set, then an update pack is available as a separate purchase.
ISBN 978-1912130009
101 Cards
39 Page booklet
Product Dimensions: 22.4 x 5.5 x 16.4 cm
★★★★★ by GSH on Amazon.co.uk
"Great for supervision! I'm a student in my 3rd year and my Practice Teacher (educator) purchased these for my placement. I find them really helpful in supervision and some models I've never even heard of. I have Siobhan Maclean's red theory and practice student book which got me through my 1st and 2nd year as a student social worker. I would highly recommend every Practice Educator to have access to these cards; it provide something different to taking piles of books to uni and placement. I come from a law background (gained my LL.B and masters in law prior to switching to social work) and I believe these cards offer so much for student, NQSW and even experienced practitioners. Highly recommended from a user of these cards."
★★★★★ by Amazon Customer on Amazon.co.uk
"These cards are excellent and so versatile in how they can be used - with students right through to experienced clinicians."